The Salamander Blueberry Berliner Weisse had its premiere at the Fruit Logistica Fair in Berlin on 7 February. Berliner Weisse is a legendary style of beer which is going through a revival on the wave of craft brewing, now with the addition of top-quality blueberries from Poland.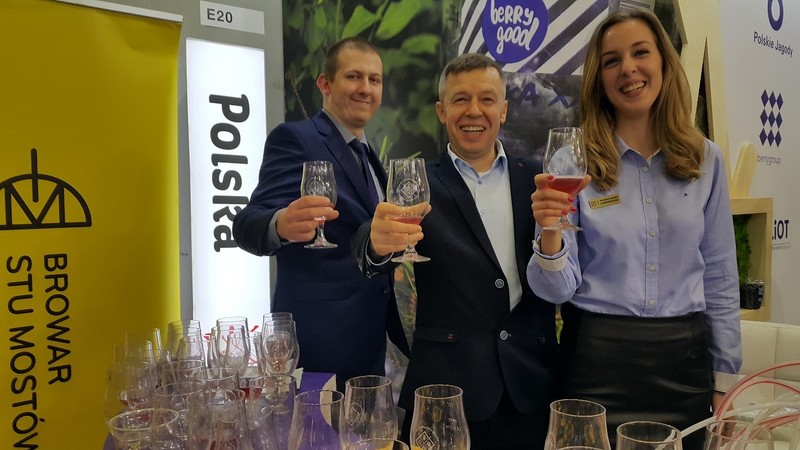 Polish blueberries and craft beer have become a trademark feature of Poland's exports. Both industries are oriented towards quality and product innovation.
Blueberries from Polish Berry Cooperative (PBC) are pre-cooled already at the plantation, within less than 30 minutes after picking, so they retain the values of freshly harvested fruit longer. "The new Polish harvesting standard is more demanding than Global GAP and other international standards. Blueberries harvested this way are exported to 25 countries on 4 continents".

With its 800 year-old tradition, hundreds of new breweries and over 1,650 new beers arriving every year, Poland is one of the driving forces behind the "beer revolution" - the massive success of craft brewing around the world. SALAMANDER Blueberry Berliner Weisse is the fruit of PBC's cooperation with Browar Stu Mostów, a brewery based in Wrocław.
"It's a mix of the traditional German school of brewing, the historical style - a light, sour, extremely delicate and refreshing beer - Berliner Weisse is fermented with lactic acid bacteria and with an addition of blueberries". The beer has a beautiful blueberry colour and taste, it is slightly sour and very refreshing".
"As the leaders of international expansion, we want to draw attention to the success of Polish blueberries and craft brewing. We benefit from the good opinion about Polish food and crafts. We think it makes sense for our industries to cooperate.

A joint product is an opportunity to integrate and promote our national characteristics: openness, hospitality, creativity and entrepreneurship. The beer had its premiere at the Fruit Logistica Fair in Berlin. It was a good opportunity to raise a glass for the success of the two flagship export industries of Poland" stresses the president of ELLIOT which is the member of PBC.